LUCY FERNANDEZ FEATURES: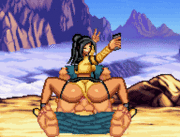 4 SEX ANIMATIONS WITH 3 VARIATIONS EACH, THAT MAKES IT 12 ANIMATIONS. AMAZON RAIDER, FRONTAL COWGIRL, 69 AND REVERSE COWGIRL.
3 ANIMATIONS SYSTEM: LINEAL ANIMATION SYSTEM, HANDY ANIMATION SYSTEM AND BAOMARU ANIMATIONS SYSTEM.
LINEAL ANIMATIONS, GOES FROM SLOW,MID AND FAST SPEEDS,
HANDY ANIMATIONS SYSTEM, CYCLES THROUGH THE SEX VARIATIONS FOR THAT POSE AT A RANDOM TIME
BAOMARU ANIMATION SYSTEM, THE PLAYER CAN CONTROL THE ANIMATIONS AND SEQUENCES WITH THE BUTTONS, SWITCH BETWEEN THE SEX POSES WITH THE ARROW KEYS, SWITH BETWEEN THE SECUECES OF THE SEX POSE WITH THE X,Y,Z AND A(ONLY FOR 69). THE B BUTTONS SWITCHES THE SPEED OF THE ANIMATIONS.
STRUGGLE MODE ADDED.
3 TYPES OF STRUGGLES MODE: BUTTON SMASHING, BUTTON SEQUENCES AND A DANCE DANCE REVOLUTION TYPE OF KEY HITTINGS.
MENU ADDED. BY PRESSING START BUTTON WITH VICTIM OR AGGRESSOR, IN 1 VS 1. IT HAS SOME COMPATIBILITY IN 2 VS 2, BUT WILL ONLY WORK CURRENTLY WITH THE LUCY CONTROLLED BY THE AGGRESSOR OR THE RYU THAT IS BEING GRABBED BY THAT LUCY. IN THIS MENU, YOU CAN: -CHOOSE THE ANIMATION SYSTEM, -THE STRUGGLE MODE, -SCALLEABE DIFFICULTY, ON BY DEFAULT MEANING THAT AS VICTIM ESCAPES, ESCAPES BECOME HARDER. -PURPLE BAR SPEED, THE SPEED THAT THE PURPLE BAR MOVES. -PURPLE BAR BEGGINING TIME, THE TIME BEFORE THE BAR APPEARS -SEX DAMAGE, -CLIMAX DAMAGE, -ENDING CYCLES BEFORE CUMMING, THE NUMBER OF SEX POSES THAT ARE SHOW IN THE HAS SYSTEM IN THE ENDING MODE BEFORE CLIMAXING. -COMBO SEX PROBABILITY, I KINDA FUCKED IT UP SO ITS IN REVERSE ORDER, IT STARTS AT VERY HIGH SO YOU CAN TUNE IT DOWN IF YOU WANT. -HAS AND LAS CYCLING TIME, FOR LAS ITS THE TIME THAT IT TAKES TO SWITCH FROM THE LOW TO MID TO FAST SEX. FOR HAS INCREASES THE DURATION OF THE SEX SEQUENCE BEFORE RANDOMLY SWITCHING. ONLY SHOW, ONLY SHOWS THE SELECTED SEX POSE.
ADDED ENDING MODE, WHEN OPPONENTS ARE DEFEATED THROUGH SEX, AFTER THE CLIMAX, A MENU POPS UP ASKING THE PLAYER FROM BOTH SIDES VICTIM AND AGGRESSOR PLAYER CONTROLLED, WICH SEX POSE IT SHOULD GO, YOU CAN CONTROL THESE WITH THE KEY ARROWS
ADDED COMPATIBILITY WITH 2VS2, YOU CAN:
MOVE THE CHARACTERS WITH THE ARROWKEYS WHILE THEY ARE IN THE SEX POSES.
IT HAS A SYSTEM IMPLEMENTED TO AUTOMATICALLY MOVE THEM IF THEY OVERLAP.
IT HAS A SYSTEM THAT SHOULD MOVE THE PLAYER BACK FROM THE WALL IF THEY ARE TOO CLOSE.
IT HAS A SYSTEM THAT MAKES THE AGGRESSORS AND VICTIMS IGNORE THE ONES THAT ARE HAVING SEX AND FOCUS ON FIGHTING EACH OTHER.
AGGRESSOR IN 2 VS 1 OR 2VS2(IF ONE OF THE VICTIM IS KO), IF PARTNER IS HAVING SEX, WILL GO TO THE PARTNERS AND WATCH.
NOT PERFECT YET…
LAST BUT YOU PROBABLY DONT CARE, I CLEAN A LOT OF CODE… SO…
YOU CAN GET THE CHARACTER NOW IN MY PATREON
https://www.patreon.com/HandyMugenEdits
OR 30 DAYS LATER FOR FREE . THANK YOUR FOR YOUR INTEREST.