Hi! How are you?

For our registered users on the main website, I have added 2 new compatibility tables for the characters. Those tables are for Aggressor and Victim compatibility information.
After you select a category for your Character, the respective table will be displayed:
Aggressor category selected:
The Aggressor moves table will be displayed to be filled.
Victim category:
The Victim moves table will be displayed to be filled.
Versatile category:
Both Aggressor & Victim moves tables will be displayed to be filled.
The old compatibility fields are still visible, but

will be deleted in 3 or 4 weeks

. They were kept in case you need the information you filled out there.
On the description page of each character (the one that all visitors can see) the new tables will not yet appear until those 3 or 4 weeks have passed.
Please take some time to fill out your character information and use the new compatibility tables.
Only the most popular and used moves were added, however, i can add more moves if you considered i forgot another important one, but I will give priority to the newer movements. Moves from old characters like Kuromaru, Tendril, etc. won't be added.
Possibly this new feature in the website could need more adjustments and changes to do. Ideas are welcome.

Some sample images.
- Compatibility table when you are uploading/editing a character: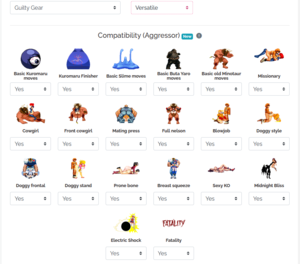 - Compatibility tables when user selected a versatile character (not visible yet, up to 3 weeks):